Welcome to the Geograph Worldwide Homepage
Geograph is a concept and open source code for a online website to create a comprehensive collection of photographs capturing every part of given region.
Currently there are three active projects, shown below - including a photograph from each.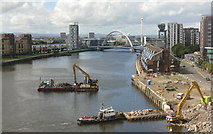 Today's Photo of the day
NS5764 : Works on Anderston Quay
by
M J Richardson
Looking down the River Clyde from the Kingston Bridge, with the Clydeside Arc bridge and the Finnieston Crane in the distance.

www.geograph.org.uk
Today's Photo of the day
UVT4143 : Burg (sorbisch Borkowy) - Mühlenwehr
by
Schön-R

Das Foto zeigt das Mühlenwehr und die Mühle an der Hauptspree im sorbischen Borkowy.

geo-en.hlipp.de
Random photo (doesn't have a daily photo)
WV6448 : The marina wall
by
Bob Embleton
Viewed from the Freedom Tree with the words of the poem engraved in the jersey granite blocks. Elizabeth Castle in the distance.

www.geograph.org.gg
Geograph Britain and Ireland, also has a slightly simplified site schools.geograph.org.uk intended for use within Schools.
... and a sub-project just focusing on images in Ireland, www.geograph.ie.
Geograph Germany/Deutschland, also has a German/Deutsch language version at geo.hlipp.de.