Welcome to the Geograph Worldwide Homepage
Geograph is a concept and open source code for a online website to create a comprehensive collection of photographs capturing every part of given region.
Currently there are three active projects, shown below - including a photograph from each.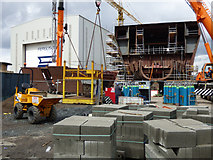 Today's Photo of the day
NS3274 : Building Hull 801 at Ferguson Marine shipyard
by
Thomas Nugent
Photo 10 in a series of 10. This photo shows the pre-fabricated bow section returned to the horizontal position, having been flipped upside-down and rotated 180 degrees. In a few minutes it will be lifted into place on the hull which is to the right.

Today's Photo of the day
UPV1153 : Kapelle in Leutenbuch
by
Harald Sogl

Random photo (doesn't have a daily photo)
WV2975 : German Occupation Museum - Occupation Sign
by
Colin Smith
"The German Occupation Museum on Guernsey is owned and operated by Richard Heaume. It all began when Richard the schoolboy began collecting spent bullets in the local fields after the plough had gone by. In June 1966 Richard`s parents allowed him to use ...

Geograph Britain and Ireland, also has a slightly simplified site schools.geograph.org.uk intended for use within Schools.