Welcome to the Geograph Worldwide Homepage
Geograph is a concept and open source code for a online website to create a comprehensive collection of photographs capturing every part of given region.
Currently there are three active projects, shown below - including a photograph from each.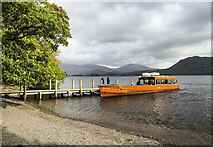 Today's Photo of the day
NY2519 : Ferry at landing stage
by
Trevor Littlewood
Passengers about to board the vessel, 'Princess Margaret Rose' at the landing stage in Brandlehow Bay.

www.geograph.org.uk
Today's Photo of the day
UMD3897 : Teich im Rhododendronpark Gristede
by
Radulf

geo-en.hlipp.de
Random photo (doesn't have a daily photo)
WV5454 : Path on Les Landes
by
Gerald England
A pathway on the heathland at Les Landes. There appears to be four puddles but the front one is actually a dead rabbit. The only tracks in the mud appear to be made by horses' hooves.

www.geograph.org.gg
Geograph Britain and Ireland, also has a slightly simplified site schools.geograph.org.uk intended for use within Schools.
... and a sub-project just focusing on images in Ireland, www.geograph.ie.
Geograph Germany/Deutschland, also has a German/Deutsch language version at geo.hlipp.de.