Welcome to the Geograph Worldwide Homepage
Geograph is a concept and open source code for a online website to create a comprehensive collection of photographs capturing every part of given region.
Currently there are three active projects, shown below - including a photograph from each.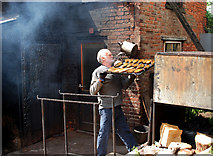 Today's Photo of the day
TM4249 : Smoked fish
by
Dave Croker
These smoked fish are now going to cool off after just coming out of the smokehouse. Note the thick black tar on the door on the left.

www.geograph.org.uk
Today's Photo of the day
ULV9471 : Menhir
by
Klaus Graßmück

Menhir von Mittelbrunn https://de.wikipedia.org/wiki/Menhir_von_Mittelbrunn

geo-en.hlipp.de
Random photo (doesn't have a daily photo)
WV5947 : Old Smugglers Inn
by
DS Pugh
Looking down the hill to Ouaisné Bay.

www.geograph.org.gg
Geograph Britain and Ireland, also has a slightly simplified site schools.geograph.org.uk intended for use within Schools.
... and a sub-project just focusing on images in Ireland, www.geograph.ie.
Geograph Germany/Deutschland, also has a German/Deutsch language version at geo.hlipp.de.