Welcome to the Geograph Worldwide Homepage
Geograph is a concept and open source code for a online website to create a comprehensive collection of photographs capturing every part of given region.
Currently there are three active projects, shown below - including a photograph from each.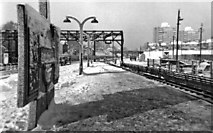 Today's Photo of the day
TQ2789 : London Underground in the snow: East Finchley station
by
Ben Brooksbank
View NW, towards Finchley Central and High Barnet/Mill Hill East, London Underground (Northern Line). Until 1939 this station had been on the LNER (ex-GNR) suburban section and goods trains (steam-hauled) were still working past here to Mill Hill East for ...

Today's Photo of the day
UMD6452 : Blick auf Colnrade mit der St.-Marien-Kirche im Abendlicht
by
Radulf

Im Vordergrund die Hunte, die Aufgrund der Regenfälle in der letzten Zeit einen deutlich höheren Wasserpegel als üblich führt. Meldestufe 1 (von 3) wurde am Pegel Colnrade ausgelöst.

Random photo (doesn't have a daily photo)
WA6008 : Entrance to the Mannez Pond Hide
by
John Rostron
This path goes through a nice bit of woodland.

Geograph Britain and Ireland, also has a slightly simplified site schools.geograph.org.uk intended for use within Schools.