Welcome to the Geograph Worldwide Homepage
Geograph is a concept and open source code for a online website to create a comprehensive collection of photographs capturing every part of given region.
Currently there are three active projects, shown below - including a photograph from each.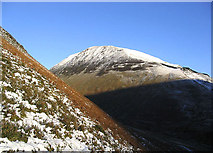 Today's Photo of the day
NT1511 : The steep east-southeastern slopes of Peat Hill
by
Walter Baxter
The initial slopes from Carrifran are very steep before easing off higher up. Carrifran Gans is in the background.

www.geograph.org.uk
Today's Photo of the day
UPV5080 : Das Neue Rathaus in Nürnberg im Weihnachtsschmuck des Christkindlesmarkts
by
Günter G

geo-en.hlipp.de
Random photo (doesn't have a daily photo)
WV6954 : Le Nez du Guet
by
Bob Embleton
The headland has what appears to be a German second world war observation building or gun emplacement. Viewed from the Rozel harbour wall.

www.geograph.org.gg
Geograph Britain and Ireland, also has a slightly simplified site schools.geograph.org.uk intended for use within Schools.
... and a sub-project just focusing on images in Ireland, www.geograph.ie.
Geograph Germany/Deutschland, also has a German/Deutsch language version at geo.hlipp.de.