Welcome to the Geograph Worldwide Homepage
Geograph is a concept and open source code for a online website to create a comprehensive collection of photographs capturing every part of given region.
Currently there are three active projects, shown below - including a photograph from each.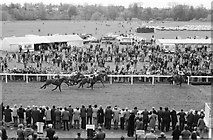 Today's Photo of the day
SJ4065 : Chester Races, May 1977
by
Jeff Buck
A meeting at Chester Racecourse on 5th May 1977. Photo taken on a Canon FTb using Ilford HP5 35mm black and white film.

Today's Photo of the day
UND6358 : Großes Becklinger Moor
by
Oxfordian Kissuth

Wasserloch im Moor.

Random photo (doesn't have a daily photo)
WV6448 : Liberation Square sculpture
by
Bob Embleton
The sculpture by Philip Jackson FRBS was unveiled by the Prince of Wales on the 9th of May 1995 celebrating the 50th anniversary of the liberation of Jersey from German occupation.

Geograph Britain and Ireland, also has a slightly simplified site schools.geograph.org.uk intended for use within Schools.