Welcome to the Geograph Worldwide Homepage
Geograph is a concept and open source code for a online website to create a comprehensive collection of photographs capturing every part of given region.
Currently there are three active projects, shown below - including a photograph from each.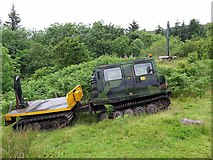 Today's Photo of the day
NM8525 : Tracked vehicle near Lerags Cross
by
Andrew Curtis

Today's Photo of the day
UMV1145 : Blick vom Römerfelsen (Panorama)
by
Klaus Graßmück

Im Vordergrund der Römerfelsen und die Aussicht auf den Dahner Stadtteil Gerstel-Bubenrech. Links im Bild über der Wiese, kann ein gutes Auge die Dahner Burgen erkennen. Dahn bei Wikipedia: https://de.wikipedia.org/wiki/Dahn (Panorama aus vier ...

Random photo (doesn't have a daily photo)
WV4675 : Sark - Font
by
Colin Smith
Font bowl in St Peter's Church, Anglican, built 1820. https://en.wikipedia.org/wiki/Sark www.sark.co.uk

Geograph Britain and Ireland, also has a slightly simplified site schools.geograph.org.uk intended for use within Schools.