Welcome to the Geograph Worldwide Homepage
Geograph is a concept and open source code for a online website to create a comprehensive collection of photographs capturing every part of given region.
Currently there are three active projects, shown below - including a photograph from each.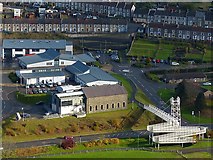 Today's Photo of the day
SO1402 : Looking down on The Elliot Colliery winding house
by
Robin Drayton
Taken from a minor road from Tirphil that ascends Cefn y Brithdir high on the other side of the valley. See http://www.geograph.org.uk/photo/3102958for details of the winding house and http://www.geograph.org.uk/photo/504024 for the footbridge.
Today's Photo of the day
UPV1979 : Ladgasthof und Hotel Riesengebirge in Neuhof an der Zenn
by
Günter Gardill
Random photo (doesn't have a daily photo)
WV4573 : Descending down into Pot Bay
by
John Rostron
The access to Pot Bay is steep, you need to hang onto the rope provided to make it.
Geograph Britain and Ireland, also has a slightly simplified site schools.geograph.org.uk intended for use within Schools.