Welcome to the Geograph Worldwide Homepage
Geograph is a concept and open source code for a online website to create a comprehensive collection of photographs capturing every part of given region.
Currently there are three active projects, shown below - including a photograph from each.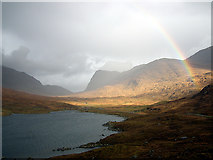 Today's Photo of the day
NB1005 : A rainbow over Loch Mhiabhaig
by
John Lucas
Viewed from the B887 road from Hushinish to Tarbert.

Today's Photo of the day
UMC9434 : Altenbeken - Großer Viadukt
by
gps-for-five

Der Altenbekener Viadukt ist mit einer Länge von 482 m und bis zu 35 m Höhe Europas längste Kalksandsteinbrücke. Auf 24 Gewölbebögen überspannt er das Beketal. Es wurde von der Königlich-Westfälischen Eisenbahn-Gesellschaft gebaut und am 21. Juli ...

Random photo (doesn't have a daily photo)
WA5506 : Signpost to the Gannets
by
John Rostron
Alderney must be one of the few places in the world where you can take a walk and then see a Gannet colony at close quarters. There are even signposts at the road junctions in the east of the island.

Geograph Britain and Ireland, also has a slightly simplified site schools.geograph.org.uk intended for use within Schools.