Welcome to the Geograph Worldwide Homepage
Geograph is a concept and open source code for a online website to create a comprehensive collection of photographs capturing every part of given region.
Currently there are three active projects, shown below - including a photograph from each.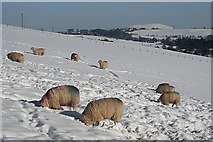 Today's Photo of the day
NJ4049 : Digging for Dinner
by
Anne Burgess
Sheep with their heads well down in the snow, digging to reach grass on which to graze. Knock Hill dominates the skyline in the distance.

Today's Photo of the day
UUT3137 : Uthausen Trafohaus
by
Heiko Kaiser

Trafohaus in Uthausen

Random photo (doesn't have a daily photo)
WA5907 : Longis Bay, Alderney
by
Colin Park

Geograph Britain and Ireland, also has a slightly simplified site schools.geograph.org.uk intended for use within Schools.