Welcome to the Geograph Worldwide Homepage
Geograph is a concept and open source code for a online website to create a comprehensive collection of photographs capturing every part of given region.
Currently there are three active projects, shown below - including a photograph from each.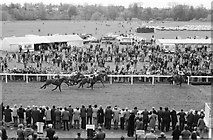 Today's Photo of the day
SJ4065 : Chester Races, May 1977
by
Jeff Buck
A meeting at Chester Racecourse on 5th May 1977. Photo taken on a Canon FTb using Ilford HP5 35mm black and white film.

Today's Photo of the day
UND6358 : Großes Becklinger Moor
by
Oxfordian Kissuth

Wasserloch im Moor.

Random photo (doesn't have a daily photo)
WV2577 : Pub sign for L'Eree Bay Hotel
by
Bill Boaden

Geograph Britain and Ireland, also has a slightly simplified site schools.geograph.org.uk intended for use within Schools.