Welcome to the Geograph Worldwide Homepage
Geograph is a concept and open source code for a online website to create a comprehensive collection of photographs capturing every part of given region.
Currently there are three active projects, shown below - including a photograph from each.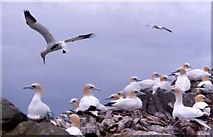 Today's Photo of the day
HP5917 : Gannets (Morus bassanus), Humla Stack, Hermaness
by
Mike Pennington
The steep sides of this stack create an updraft that the adult Gannets enjoy playing in. Presumably this was early July as all the adults seem to be incubating or brooding small chicks.
Today's Photo of the day
ULV4697 : Grimburg - Wegekapelle (Wayside Chapel)
by
Colin Smith

"Am Weg vom Dorf zur Burg: Wegekapelle; kleiner Putzbau, 1930, im Innern Ílberg".
Random photo (doesn't have a daily photo)
WV5848 : Le Mont Sohier
by
Gerald England
The main road at St Brelade's Bay.
Geograph Britain and Ireland, also has a slightly simplified site schools.geograph.org.uk intended for use within Schools.