Welcome to the Geograph Worldwide Homepage
Geograph is a concept and open source code for a online website to create a comprehensive collection of photographs capturing every part of given region.
Currently there are three active projects, shown below - including a photograph from each.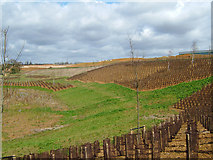 Today's Photo of the day
SP8680 : Landscaping the River Slade valley, Kettering
by
John Stolarski
In the distance is the developing North Kettering Business Park. The photo was taken from a horse-rider's path being added to the amenities.

Today's Photo of the day
UMV4545 : Herxheimweyher: Kreuz aus rotem Sandstein
by
Harald Sogl

Random photo (doesn't have a daily photo)
WV6048 : Main road into St Aubin
by
Oliver Dixon
The anchors set a nautical theme.

Geograph Britain and Ireland, also has a slightly simplified site schools.geograph.org.uk intended for use within Schools.