Welcome to the Geograph Worldwide Homepage
Geograph is a concept and open source code for a online website to create a comprehensive collection of photographs capturing every part of given region.
Currently there are three active projects, shown below - including a photograph from each.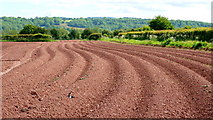 Today's Photo of the day
SO4130 : Potato ridges
by
Jonathan Billinger
The sinuous curve gently leads the eye towards Cwm y Cotterell Wood in the distance.

Today's Photo of the day
UTT9949 : Der Elberadweg
by
BMG1900-Anhalt

Das Foto zeigt den Elberadweg durch einen Wald zwischen der Elbe und der Landstraße 63 in westliche Blickrichtung.

Random photo (doesn't have a daily photo)
WV6452 : Le Becquet Servais
by
Bob Embleton
Viewed from the south on a plane approaching the airport. The village is on the A9 at the heart of Jersey. It is here that the island centre stone is placed.

Geograph Britain and Ireland, also has a slightly simplified site schools.geograph.org.uk intended for use within Schools.