Welcome to the Geograph Worldwide Homepage
Geograph is a concept and open source code for a online website to create a comprehensive collection of photographs capturing every part of given region.
Currently there are three active projects, shown below - including a photograph from each.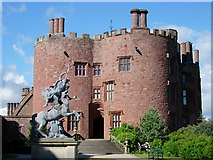 Today's Photo of the day
SJ2106 : Powis castle
by
Val Vannet
Powis is a Medieval castle rising dramatically above a celebrated garden overhung with enormous clipped yews. The garden is laid out under the influence of Italian and French styles, it retains its original lead statues, an orangery and an aviary on the ...

Today's Photo of the day
UPV2995 : Abgeerntete Felder bei Unterreichenbach
by
Günter G

Random photo (doesn't have a daily photo)
WV6151 : Moulin De Quetivel
by
Chris Allen
This is the correct spelling apart from a lack of an acute accent on the first e. The overshot waterwheel is bang on the grid line, as is the photographer.

Geograph Britain and Ireland, also has a slightly simplified site schools.geograph.org.uk intended for use within Schools.