Welcome to the Geograph Worldwide Homepage
Geograph is a concept and open source code for a online website to create a comprehensive collection of photographs capturing every part of given region.
Currently there are three active projects, shown below - including a photograph from each.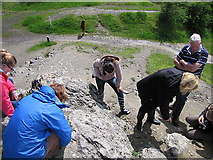 Today's Photo of the day
SO9392 : Looking for fossilised corals, Wren's Nest
by
Rudi Winter
At the top of a steep-sided ridge quarried on both sides, a plethora of reef-forming corals and other fossils can be found in the limestone. Members of the West Wales Geological Society are trying to identify some of them.
Today's Photo of the day
UTT9833 : Feldweg von Meilendorf nach Repau
by
Heiko Kaiser

Kreuzung auf dem Feldweg von Meilendorf nach Repau
Random photo (doesn't have a daily photo)
WV6048 : St Brelade Parish Offices
by
Oliver Dixon
The parish offices (or Salle Paroissiale) of St Brelade. For administrative purposes, Jersey is divided into twelve parishes, each headed by a "Constable". The parish of St Brelade, including as it does the principal settlement of St Aubin, is one of the ...