Welcome to the Geograph Worldwide Homepage
Geograph is a concept and open source code for a online website to create a comprehensive collection of photographs capturing every part of given region.
Currently there are three active projects, shown below - including a photograph from each.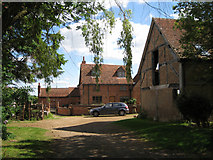 Today's Photo of the day
SP3159 : Wiggerland Wood Farm, early summer
by
Robin Stott
The barn, right, appears to be in mid-conversion to residential use.

Today's Photo of the day
UTS9295 : Meuschau - Rapsfeld vorm Deich
by
BMG1900-Anhalt

Das Foto zeigt ein Rapsfeld vorm Deich nördlich von Meuschau im Überschwemmungsgebiet der Saale in östliche Richtung.

Random photo (doesn't have a daily photo)
WV4574 : The Big Sark end of La Coupee
by
John Rostron
Taken from half way across La Coupee looking towards Big Sark. The access road runs though the cleft in the rock, seen from the opposite direction in [[93]]. To the left of the end of La Coupee itself is the access to the path down to Grand Greve, the ...

Geograph Britain and Ireland, also has a slightly simplified site schools.geograph.org.uk intended for use within Schools.