Welcome to the Geograph Worldwide Homepage
Geograph is a concept and open source code for a online website to create a comprehensive collection of photographs capturing every part of given region.
Currently there are three active projects, shown below - including a photograph from each.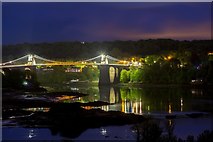 Today's Photo of the day
SH5471 : Menai suspension bridge and Ynys Welltog
by
Oliver Mills
A view towards the Menai suspension Bridge from the viewpoint by the A5. Various islands that make up The Swellies can be seen in the foreground.

Today's Photo of the day
UMB6400 : Wetzlar - Blick über die Alte Lahnbrücke
by
BMG1900-Anhalt

Das Foto zeigt einen Blick über die Alte Lahnbrücke in Wetzlar in Richtung Hospitalkirche.

Random photo (doesn't have a daily photo)
WV5848 : Churchill Park Fountain
by
Gerald England
Ornamental Fountain in the Sir Winston Churchill Memorial Park.

Geograph Britain and Ireland, also has a slightly simplified site schools.geograph.org.uk intended for use within Schools.