Welcome to the Geograph Worldwide Homepage
Geograph is a concept and open source code for a online website to create a comprehensive collection of photographs capturing every part of given region.
Currently there are three active projects, shown below - including a photograph from each.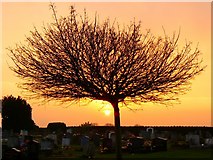 Today's Photo of the day
SU1992 : Highworth cemetery at the winter solstice
by
Brian Robert Marshall
The shortest day of the year in the northern hemisphere falls between the 20th and 23rd December depending on the year. In 2007 the solstice occurred on the 22nd with the period between sunrise and sunset being 7 hours 49 minutes and 40 seconds. The sun ...
Today's Photo of the day
ULB1521 : Wiese mit Bachquelle
by
Andreas Hörstemeier
Random photo (doesn't have a daily photo)
WV5955 : Cliff scenery to the east of La Grève de Lecq
by
Oliver Dixon
The bay of La Grève de Lecq is hidden by the headland in the middle distance. The far headland is La Tête de Plèmont [[WV5656]].
Geograph Britain and Ireland, also has a slightly simplified site schools.geograph.org.uk intended for use within Schools.